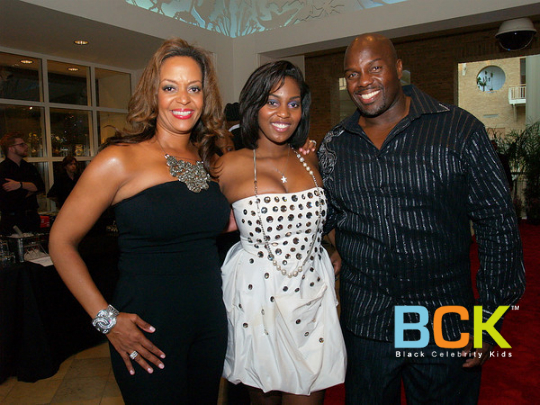 (L) to (R) Angela, Joi and Jamie Dukes, former Atlanta Falcons offensive lineman now Sportscaster, attended the third annual Runway Red charity fashion gala benefiting Show Me The Way Foundation on Sunday, August 14, 2011. The fashion show, which featured pint-size socialites and celebrity kids, was held at the Fernbank Museum in Atlanta:
The fashion show garnered over 600 supporters of the Show Me the Way Foundation's mission in raising imperative funding for children infected by or affected with HIV/AIDS. Pint-size socialites, mini-me movers and shakers and their well-known celebrity parental escorts also viewed exclusive fall and winter Back to School collections from Macy's and high-end fashion designers from all over the world. African Pride Dream Kids Hair Care, a proud sponsor of Runway Red, also announced the launch of the highly anticipated Olive Miracle formula Hair Care collection.~Show Me Way Foundation
Blackcelebkids.com had the pleasure of attending the event so stay tuned for videos and a gallery of  even more exclusive pictures from the event .
More pictures of the trio are below!
Photo Credit: Ben Evans, Celebrity Event Photographer