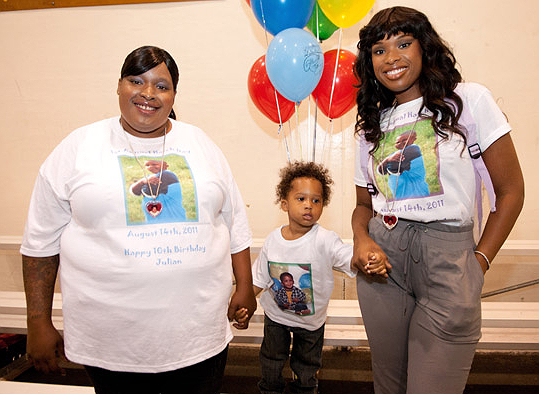 Julia Hudson, David Daniel Otunga Jr. and Jennifer Hudson pose at the 1st annual Julian D. King Gift Foundation Hatch Day celebration at De La Salle Institute on August 14, 2011 in Chicago, Illinois:
Chicago's favorite "Dream Girl" is helping kids get ready for school and honoring the memory of her late nephew.

Oscar-winning actress and Grammy-winning singer Jennifer Hudson, along with her sister Julia, hosted the first ever Hatch Day on behalf of the Julian D. King Gift Foundation at the De La Salle Institute.

At the event, 2,000 Chicago students received school supplies and got to create their own custom backpacks. The Hudson sisters say Julian loved school and helping others.

"It feels good to give back to children as he was a child. And also to help inspire your kids — that's one of the things that helped me growing up to know that, 'Wow if this is in my presence, then I can achieve and I can do it, too,' and we want to send out that same message to the youth of today," Jennifer Hudson said. (Source)
More pictures of the family are below!