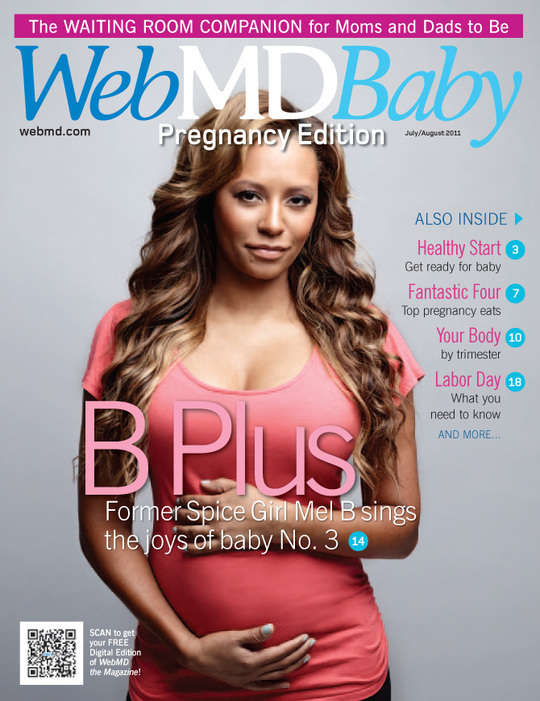 Melanie Brown is due to give birth to her first baby with husband Stephen Belafonte in August and, now as her due date approaches, the singer finds herself eating a whole lot.
"I was like this with my last two pregnancies, too," Brown tells WebMD. "When I'm really into my fitness routine, I eat super clean, super protein, super organic — super, super healthy. But since I've been pregnant, I kind of indulge in the things I wouldn't usually indulge in," she says, like the occasional burger or pizza.
She adds, "I'm married to a good cook who cooks really healthy — well, mainly healthy — food."
On her pregnant body:
"For the first four months, I felt really sick — I was just trying to get through the day without actually throwing up, so I haven't really worked out since I've been pregnant," says Brown, who normally gravitates toward a mix of heart-pumping workouts like spinning, boot camp, and hiking. "It was strange because, with my last two pregnancies, I never had morning sickness. So it was a bit shocking, to say the least. But I'm finally getting out of that phase and starting to feel good."
On being a mom to kids Phoenix, 12, and Angel, 4.
It's a juggling act," Brown adds."I juggle stuff on a weekly basis, between time by myself, time with my husband, and good, well-spent time with the kids. I do that every single week and if I didn't, I think I would go insane. I just do it week-by-week, and it somehow manages to get done."
On breastfeeding:
"It is extra-special to breastfeed and it is really healthy [for the baby], but not every woman can do it. I hope I'm able to, but if you can't you can still get that connection by feeding your baby with a bottle. It's not as intimate, but you can still get that bonding."
Read More at WebMD
Check out photos from her recent Woman's Day photo shoot below!
Photos:WebMD/Woman's Day/www.zigazig-ha.com