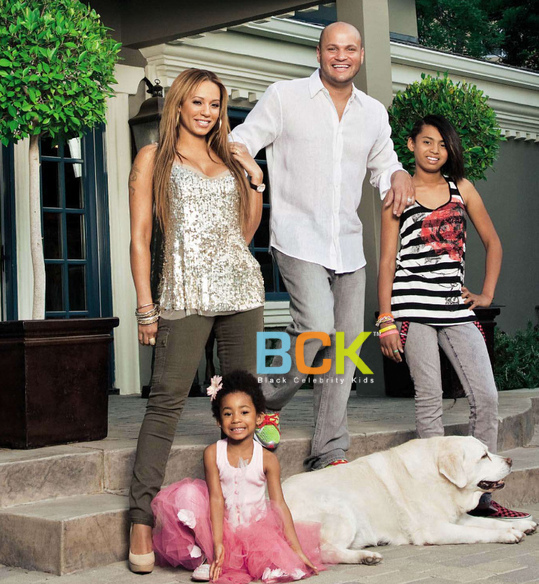 Singer Melanie Brown, who is sixth months pregnant with her third child, recently sat down with UK's  The Guardian to talk about her family values and why her older daughter Phoenix won't be following in tween star Willow Smith's footsteps anytime soon.

On parenting with her husband: Stephen Belafonte, a producer, was a friend first. I had two children, Phoenix Chi, who's now 12, and Angel, who's four, and he had a daughter, Giselle, now six, by the time we became a couple. We all get on because I make sure we do. It's a fine line between being a friend and a parent. But I'm determined that the girls grow up to be respectful. I can't bear to see children who throw things around and don't take care of their belongings. I guess I am very strict – I'm always telling them to tidy up their rooms and make their beds.
On Angel: My littlest girl thinks she is a princess. Angel is into everything girly – princess shoes and pink dresses. She's so sweet.
On Phoenix: Phoenix is completely different, very curious and thoughtful. She's also into sport and is a bit of a tomboy. She's in sixth grade at the moment. I want to make sure all my children get well educated – every mum would like to see their children choose a decent nurturing profession, like medicine and I am no different. But I also want them to enjoy themselves, whether that means becoming a nerdy doctor or opening an orphanage or being a singer.
On Phoenix wanting to be a singer: We went to see Willow Smith perform live in Los Angeles, where we live. Phoenix, who is six months older than Willow, said to me, how cool is that, to be doing what she does? But I said, 'Darling, if you wanted to be a singer now, you'd be practicing all day every day in your room already – you wouldn't be able to stop …' But she isn't like that, and you can't force children, nor should you.
On having regular therapy sessions: Therapy makes you more aware of your partner. We don't need counseling – it's not like that. But it does make you more considerate of each other. It's helped me to build good relationships with my daughters. It reminds you to check in with your kids every day. It is certainly not about blaming your parents – it just helps you understand events and helps you to change your attitudes and thought processes. It teaches you to respect each other.