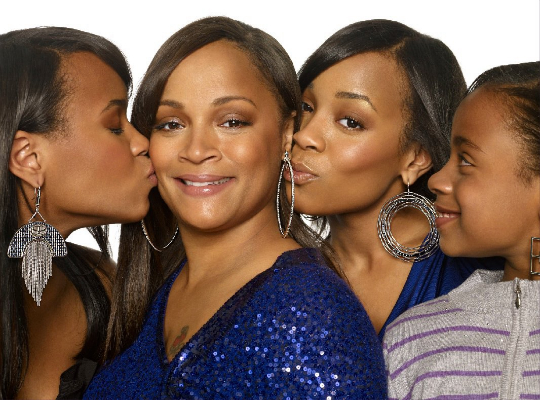 Most people know her as the wife of famed rapper/actor LL Cool J, but Simone Smith is much more. With the recent launch of her jewelry line called Simone I. Smith Jewelry, this mom of four has shown that she is much more than a wife.
Simone recently sat down with OliveCoco Magazine to talk about her new business venture, her children, and how she overcame cancer. Check out highlights from the interview now!
On her marriage and kids:
My marriage and my kids definitely come first, you know? I make time for my kids…I do the regular things that moms do. I run my house, I drive my kids to school, and I have a great support system. It's definitely important for me and my husband to have 'Mommy-Daddy time.' We do the movies, we go to dinner, but we also do family things with the kids as well.
On the values she tries to instill in her daughters:
Well first and foremost, we go to church. I encourage my daughters to say their prayers, read their Bibles, and believe in yourself and that you've got to trust God.
On her jewelry line:
It's definitely for ALL women. I've actually launched with big earrings first, so we have amazing cuffs, and then we also have a lot of the earrings designed that are offered in several sizes. I definitely encourage women to have the confidence to really go out and put on that big hoop earring, but the majority of the earring styles come in different sizes for those who aren't so daring.
On overcoming cancer:
I have a piece of jewelry, that when it's purchased, proceeds go towards the American Cancer Society. The reason why I did that is because back in 2004, I had a very invasive surgery done because they found a Chondrosarcoma tumor in my tibia bone. So I had an invasive surgery called microvasuclar reconstructive surgery, and they had to remove my whole tibia bone and replace it with my fibular bone from my left leg. It took me almost 2 1/2 years to learn how to walk again. I fought through it, so I was a little depressed for like about…two weeks…but my grandmother called me up and told me, 'you better not be depressed and get prayed up for those doctors who are doing this surgery on you and you're gonna beat this.' So I prayed to God and since then my test results have been great. In another 3 years, I'm waiting for my doctor to tell me that I'm cancer free!
Website: SimoneISmith.com