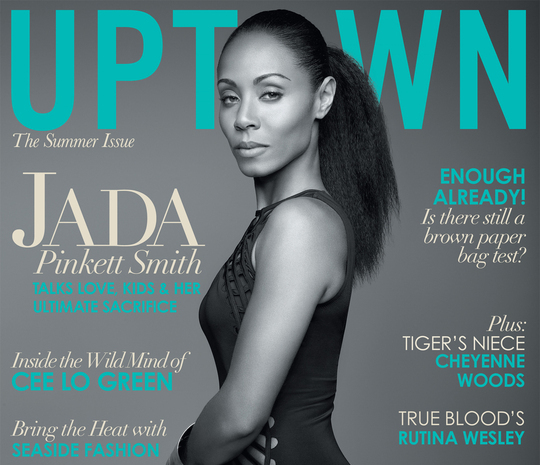 "If I survived everything that I survived in Baltimore and Will survived everything he survived in Philly, these kids surely can survive the Hollywood game."
Actress and mom Jada Pinkett-Smith talks about family, sacrificing for her kids, and much more in a new interview with Uptown Magazine. Check out highlights from the interview in which she addresses people's concerns about how she and her husband Will Smith are raising their kids Willow and Jaden.
On Jaden and Willow's  personalities:
"Believe it or not, they're both like me and Will," says Pinkett Smith of the couple's children. "Willow's a lot like me – just in the chances she'll take. And then, Jaden has the drive of his father. Jaden and I are what I call introverted extroverts. Willow and Will are more pow! Jaden and I, well, we don't give that to just anybody."
On the stage parent rumors:

There are so many other kids you can worry about. My kids? They're going to be all right. I get why people would criticize. But people need to know that Will and I would never put our children in a situation that would bring them detriment," she says, her hazel eyes flashing.
"My kids have no idea how I grew up," Pinkett Smith continues. "Even in knowing my story, they couldn't know what that means. They have no RE-ALI-TY. None. My feeling is, my kids need to have challenges, in a safe way. If I survived everything that I survived in Baltimore and Will survived everything he survived in Philly, these kids surely can survive the Hollywood game. With so many heavyweights surrounding them—from Beyoncé and Jay-Z to Will Smith and Jada Pinkett Smith to Jennifer Lopez and Marc Anthony—if they can fail in a circle like that, then they weren't going to win in the first place."
On disbanding her band "Wicked Wisdom" and on abandoning her music career for her kids:
"When Jaden did The Pursuit of Happyness, I was supposed to go on tour with Guns N' Roses in Europe," she says softly.  She turned down the offer and eventually disbanded the group. "It was probably the most heartbreaking experience. But what I realized is that sometimes God will place things in your life that will make you recognize what your priorities are. I adore my son; he's my soul seed. There was no way that I was going to allow him to do [a movie] and not have his mother."