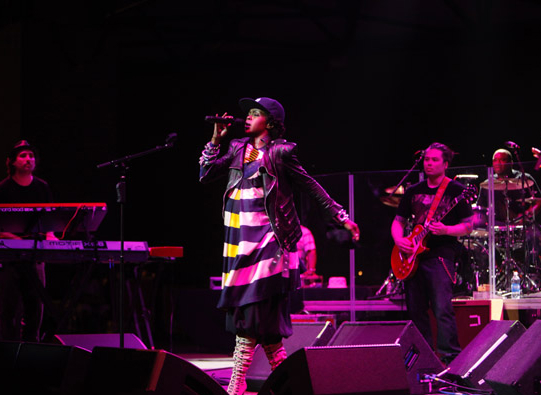 Updated on 6/7/11: Rohan Marley, the father of Lauryn Hill's five children, has hinted that he is not the father of  her sixth child. Rohan wrote via Twitter recently, "'2 things… I'm not married and I don't have anyone expecting anything."
Up until now, everyone had assumed that Marley was the father of Lauryn's sixth child. Story developing….
Original Post:
Singer Lauryn Hill has confirmed that she is indeed pregnant with her sixth child.  The singer announced her pregnancy at the end of her concert at Detroit's Chene Park on Saturday night.
She told the crowd: "I'm going to be taking time off to give birth."
In April, Lauryn hinted at her pregnancy when she said, "I keep having these children. I don't know if I'm the most fertile woman in America.  I've got five big children, you believe that? If you ask anybody I went to high school with, they'd be like puzzled… Wait till you hear the big secret though."
Hill is already the proud mother of  kids Zion(b.1997); Selah(b. 1998); Joshua(b. 2002); John (b. 2003); and Sarah(b.2008).

Check out more photos of the expectant mom below!