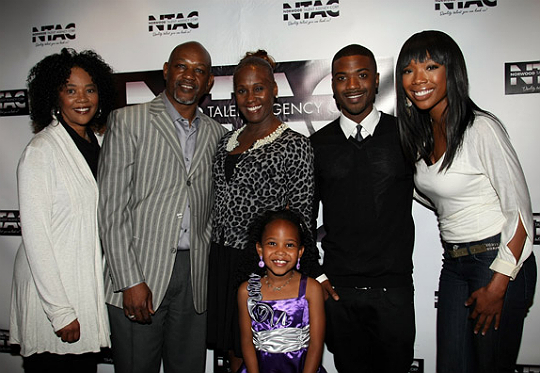 Six-year-old entertainment reporter Harmony " Love" Bailey poses with the Norwood family at the launch party of the (NTAC) Norwood Talent Agency Corporation on May 10, 2011 in Hollywood, California. Harmony, who is the first client to be signed to the agency, has a resume that competes with most veteran reporters:
The precocious little six year old can claim a resume that is the envy of most accomplished veteran reporters. She has interviewed over 130 celebrities and political figures, including Laila Ali, Nick Cannon, Rev. Jesse Jackson, Eric Benet, the recently dearly departed Teena Marie, Sheryl Lee Ralph, Magic and Cookie Johnson, Soulja Boy, Monica, Congresswomen Diane Watson and Maxine Waters and Chris Tucker! Harmony's talent and easy way with a microphone has landed her actual gigs reporting for Vibe.com and EURweb.com. The budding journalist has her own YouTube.com channel and blog Harmony-Love-Infotainment.blogspot.com and her skills are so refined that entertainers often repost her interviews on their own websites ! (Source)
Click here to see more videos from Harmony!
Website:Harmony-Love-Infotainment