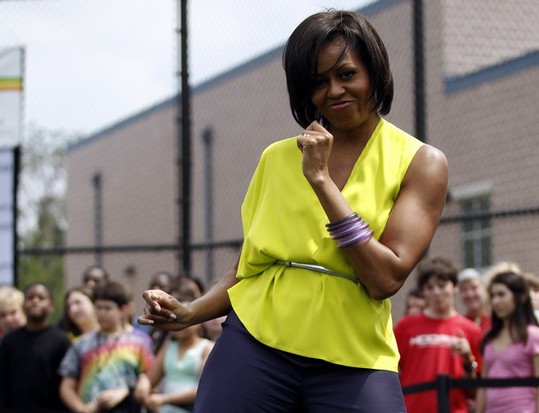 Now that's a cool mom! First lady Michelle Obama dances during a visit to Alice Deal Middle School for a "Let's Move" fitness event in Washington on May 3, 2011:
First Lady Michelle Obama got her groove on during a surprise visit to Alice Deal Middle School on Tuesday as part of her "Let's Move!" anti-obesity campaign. The first lady, who has been promoting a balanced diet and physical fitness among youth, participated in a dance-off with bouncy teens and pre-teens to get them energized. Obama jumped up and down, clapped, and did the contemporary "Dougie" and "Running Man" to pop star Beyonce's song "Move Your Body." (Source)
Website: Letsmove.gov

BCK Says: What does Sasha and Malia have to say about all of this?