NFL star cornerback Charles Tillman and his wife, Jackie, appeared on the Oprah show this week to talk about how a life-threatening illness nearly ended their three-year-old's daughter Tiana's life. During the show, Oprah had a big surprise for the Tillmans: the woman who saved their daughter's life.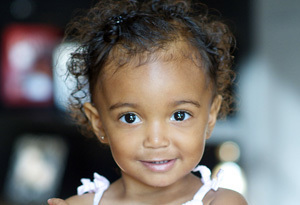 Chicago Bears star cornerback Charles "Peanut" Tillman is a force to be reckoned with on the football field. But, when his baby girl, Tiana, was diagnosed with a life-threatening illness in 2008, there wasn't much he and his wife, Jackie, could do to defend their daughter.

Born February 11, 2008, Tiana weighed a healthy 7 pounds, 5 ounces at birth. But, three months later, Tiana's health took a turn for the worse. "She stopped eating, and she was screaming and really acting different," Jackie says. "That is the day that everything kind of went downhill."(Read More)
Watch now as the Tillman's meet the donor family for the first time!

cLICK HERE IF YOU CAN NOT SEE THE VIDEO.