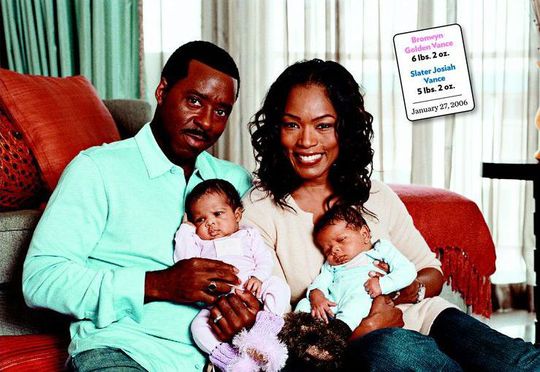 Twins Bronwyn Golden and Slater Josiah were born to actors Angela Bassett and Coutney B. Vance on January 27, 2006.  The twins, who were born via a surrogate, were 6 pounds 2oz and 5 pounds 2oz, respectively:
PHOTO:Click here for a recent picture of the twins
Deeply religious, the couple—who cowrote a new book about their journey, Friends: A Love Story—say they never wavered in their belief that they would become parents. "I had faith, so I never really got discouraged," says Bassett. Meanwhile, Vance was ready to investigate adoption when a family friend suggested surrogacy, in which a surrogate mother would carry the couple's own embryo. "My friend told me that Jesus was had by a surrogate, and I said, 'Thank you for that,'" recalls Bassett. "It's a story you have heard over and over, and to think about it in 2006, it makes sense." ~People Magazine, 2006 issue
More pictures below!