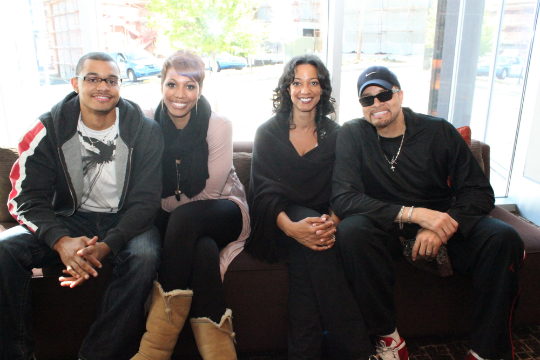 Comedian Sinbad, his wife Meredith, and their children Paige(R) and Royce(L) are featured on a new reality series called Sinbad: It's Just Family.
Here is a summary of episode 1:
After coming back from a hoax death on Wikipedia and losing his house to the IRS, Sinbad is back together with his wife Meredith. The two decide to have Sinbad move back in with her. Also affected by Sinbadís IRS troubles and his kids, Paige (25) and Royce (22), who were staying with him. All four are now moving back into the house and finding that space is going to be limited with four adults living under one roof. Sinbad has accumulated so much stuff over the years that it is spilling out into the hallways. While he finds he has no space in which to put any of it, he struggles to readjust to living with other people, battling with Meredith over office space, and having to counsel his kids on their love lives. Between all the added clutter in the house and the sudden lack of privacy, everyoneís patience will be tested by this new living arrangement (Source)
Sinbad:It's Just Family premieres on April 12th on WeTV.