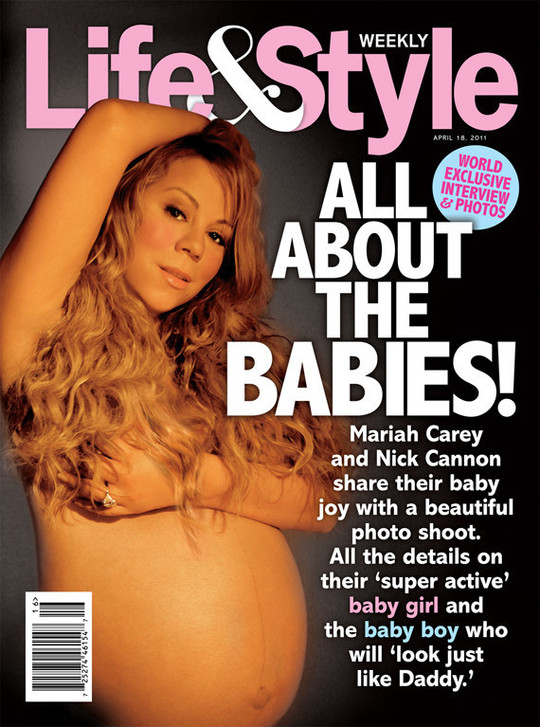 Mariah Carey has bared her bump for all to see!  The singer, who is due in a few weeks with twins, has gone nude on the cover of LifeStyle magazine.
"I was feeling very vulnerable about taking pictures at all right now, but then I didn't want to miss this opportunity to document this once-in-a-lifetime experience," Mariah tells Life & Style. "My ultimate goal was to share this incredibly personal moment with my true fans."
Mariah says that the twins were kicking during her entire photo shoot.
"The babies were kicking almost the entire time; it was unbelievable. Especially the girl — clearly she's a diva in training! We didn't start shooting until 1:30 a.m. because I was in the hospital from the night before until the day of the shoot with contractions five minutes apart!"
Soon-to-be-dad Nick Cannon has a new appreciation for his wife. "I thought I couldn't love Mariah more," he says. "But I have a whole new appreciation and admiration for her."
Mariah joins in, "Now I have so much respect for mothers everywhere, especially those who've had difficult pregnancies or given birth to multiples. We need to have Mother's Day once a week!"
For all the exclusive photos of Mariah showing off her baby bump, pick up the latest issue of Life & Style, on newsstands nationwide Friday.