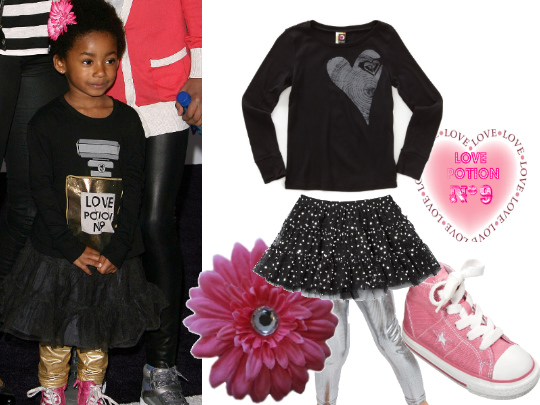 Just in time for Valentine's day!
For her recent outing to the Justin Bieber 3-D premiere,  Angel Iris Murphy-Brown,3, wore a customized Wildfox Love Potion Tee paired with a black tutu and gold leggings.  Click over to see how you can get Angel Iris Murphy's trendy look for less! All for under $100.

Girls' Circo® Black Tutu Valentine's Day Skirt
is available for $9.99.
Girls 7-14 Forest Long Sleeve Top is available at  Roxy.com for $14 or you can get the Girls' 2-6 Sequins Long Sleeve Tee at Roxy.com for $20.00.
American Apparel Kids Shiny Legging
is available for $19.50.
Posies Accessories Medium Hot Pink Gerber Daisy Hair Clip
is available for $5.99.
Toddler Girls' Converse® One Star® Hi-Top Pink
is available for $17.99.
Photos:Fame Pictures