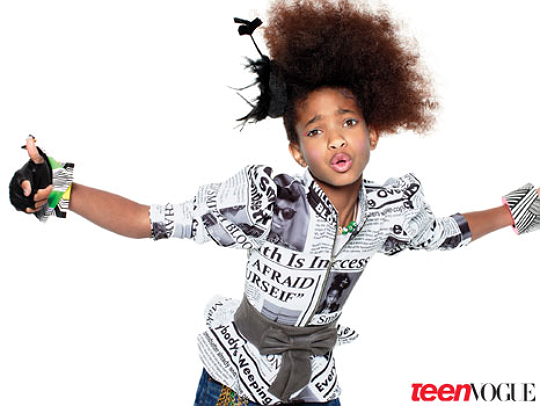 Willow Smith,10, is featured in this month's issue of Teen Vogue magazine. In the issue, the tween star talks about her music, her parents, and much more! Here is an excerpt of the article:
Unless you don't have a radio, TV, or Internet connection, you've probably heard the übercatchy "Whip My Hair," which, since its release this fall, has scored more than 34 million hits on YouTube and a number eleven slot on the Billboard Hot 100—a milestone no other ten-year-old has reached.

Willow, who joins Justin on his European tour this month, admits that even she's still getting used to it all. "When I first put ['Whip My Hair'] out, everyone was like, 'Willow, Willow, I love your song!' And I was like, 'Really?'" recalls the singer.

She credits the incredible popularity of the single, in part, to its positive message. "Whipping your hair means not being afraid to be yourself," Willow explains. "If people don't like you, then bunck them, you know?"
Watch Willow's Teen Vogue photo shoot now!