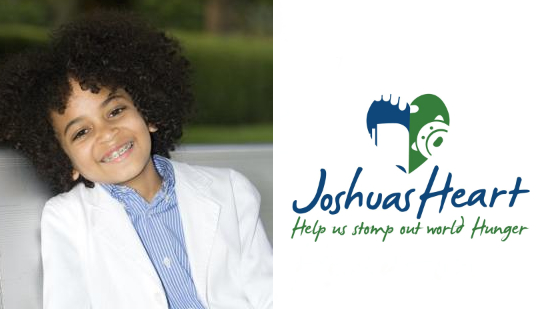 Joshua Williams is the nine-year-old philanthropist behind Joshua's Heart Foundation, the charity which he founded when he was just five years old. Joshua's primary focus is to "Stomp out Hunger" in poor and underprivileged communities.
Joshua's Heart Foundation, a 501(c) 3 non-for-profit organization, empowers, needy people to improve their quality of life. We do so by providing items if basic necessity, such as food and other grocery products, and by effectively engaging and educating communities at home and abroad about committing to fight hunger and poverty on a global basis

From donations of food and hygiene products, Joshua's Heart distributes food to those that fall within the Federal Poverty Guidelines through our food distribution center. Food is distributed to the needy once per month. Those referred to Joshua's Heart Foundation by community, state and government agencies are given a food bank card that they show with each pick up. Supplemental food boxes are a primary and important source in the effort to "Stomp out Hunger" in our communities.
Check out Joshua's NBC feature:
Website: JoshuasHeart.org