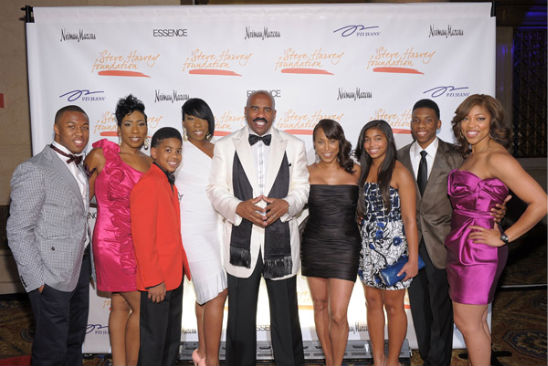 Steve Harvey has called his ex-wife  Mary Shackelford-Harvey's allegations that he cheated on her and turned their son against her, a lot of "lies."
"I know the truth," Harvey said on his syndicated Morning show on Monday. "But the matter is, the part that's hurtful in this is my wife and children had to be drugged [sic] into this. If you're going to be vindictive go ahead and aim it at me, but my son is coming in the room crying. And that's also her son. So why would you do this?
"And I don't even understand the purpose of it," he continued. "I mean, I got you mad 12 years ago, that's what we're doing now? And here's the thing that my father always taught me. He said, 'Son there's three sides to every story. It's their side, it's your side, and it's the truth.' And the truth 'gon come out. Because see, once you go public then you allow people to start asking some other types of questions."
Steve and Mary married in 1996 and divorced in 2005. Their son Wynton was born in 1997.
Of parenting Wynton, Steve said, "…My job as a father to my son, I have taught him to be respectful of his mother and women overall. That's what I've taught him. What he can't do is see me going out making particular accusations and rants. It is still his mother and I'm his father," he continued. "And it's my job to raise him the right way. If I have custody of the child, which you have to wonder how that happened, then my job is to teach him by example. And he's crying through this whole thing because his friends called and his sister found it on the Internet at the same time. And it's just horrible. But it is what it is, I'm good. I appreciate all the support … the people that's going to hate you they're just looking for something to hate you for anyway. You could do me all you want, I don't care what you say about me. But my wife and kids are off limits, I tell people all the time."