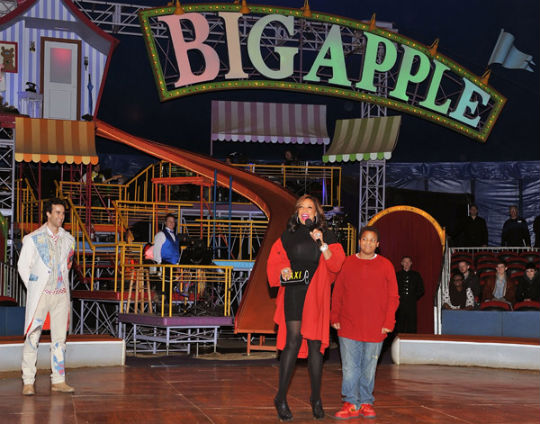 Talk show host Wendy Williams opens up about motherhood in her latest sit down with Momlogic.com. Wendy is a mom to son Kevin Hunter Jr.,11,:
On a  life lesson she hopes to impart to her son:
I just want him to be a decent human being. It's tough enough these days with kids, and all that's going on in cyberspace, but parents have a responsibility to impart certain goals to our children and send them out into the world and hope that they do well. I would prefer for him to marry a smart career woman. Because if the economy continues the way it's going, families are going to need two incomes for even the most basic things. College is now about $60,000 for four years. By the time our children send their kids to school, tuition will probably be upwards of $85,000 a year. One income just won't do it. I want him to marry a smart girl like his mother.
On speaking to her son about bullying:
A lot of us have been bullied at some point or another. Some people were more outright bullied and others are looking back and realizing it. For me personally, I was a victim of bullying. I'm tall and had weight issues early in life, as well as being only one of four blacks in my school. I've always had some sort of cross to bear regarding the people around me. It's coming to light right now, certainly it's not the first time in history someone has killed themselves for being bullied. As parents raising our children, we need to raise them to be more tolerant of the differences around them. You don't have to be gay to be tolerant. At five years old, my son totally understood what it was to be gay. At his school, he's taller than other kids, but that's better when you are a boy than when you're a girl.
On screaming vs. spanking her son:
Screaming is effective! But you've got to use that tool very sparingly, because when you bring it out, they've got to scatter. It's better than spanking. I grew up with spanking. My husband, just by being there, can often turn the whole situation around, but for me … I haven't spanked Kevin in easily three and a half years. I don't mean a beatdown, but "You've done something wrong and you're going to feel the sting." I was raised on spanking and don't see it as corporal punishment. There's a definite difference between spanking your children and twisting their arm out of the socket and throwing them down the steps, or beating them with cords and switches. A quick spank with a firm hand and a little shrieking used to work for me when he was younger. Now he's 5′ 5″ and I could break my hand on impact.
On the biggest challenge of juggling motherhood and her career:
Being there for school events sometimes. I must say it has become much easier now, because Kevin's been going to the same school for the past five years. When I was on the radio, I was able to be there for him all morning. I could do lunch duty at his school from 11:15 to 12:15 and still make it in to my shift on time. The dynamics of my career and my personal life were different. Now, I'm not able to be there quite has much, but I've stepped up talking to his teachers on the phone. If he has something going on in the evening we can certainly be there, but I can't be there that often during the day. I can't stand on the playground and watch out for him. I can certainly do a drive-by during the day.
Read more at Momlogic.com