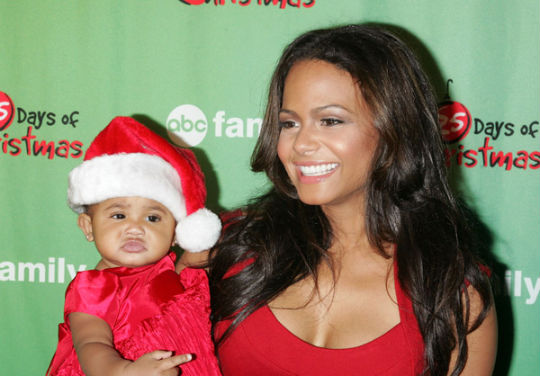 Christina Milian held on to her daughter Violet Nash as she attended ABC Family's "25 Days of Christmas" at The Rock Center Cafe on December 5, 2010 in New York City.
In a recent interview with Popeater, the singer revealed that she will be starring in ABC's made-for-tv movie Christmas Cupid and that Violet was on set with her everyday: "She comes with me everywhere, ever since she was born," Milian said. "She was on the set every day while we were making the movie. She was actually pretty incredible. My mom came with me, and my assistant and friend, Lauren, and they'd take care of Violet when I would go do scenes. I was breast feeding her between shots, during lunch and after work. Everybody loved having her around. She's the happiest baby. If I don't bring her to a meeting, people are like, 'Where's Violet?' "
"I'm juggling the two together — my work life and being a mom," she added. "Some people think you have to stop doing your dream when you have a child. I think you can do both. It's a great balancing act."
More pictures below!