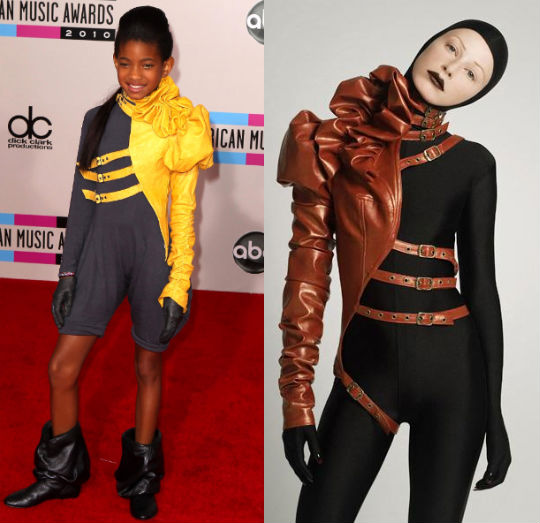 Willow Smith's custom-made AMA outfit has caused an uproar in the fashion world because many claim that  it was a knock off! The original design was created by brand Mother of London.
Mother of London designer Mildred Von Hildegard has expressed her disappointment in finding her contraption on the pint-size star. "I'm disappointed and saddened that this will negatively impact my business. My original design is now recognized in the mass media as someone else's work, and it's very hurtful on both a personal and professional levels. I hope this can be resolved, and I wish nothing but the best to Willow."
Mariel Haenn, who sometimes styles Willow, says she did not dress the child star for the AMA's "Just an fyi, we only dressed Rihanna last nite," Mariel tweeted on Monday. I don't like when people try to credit me for work that's not mine #justsayin."
Mariel also claims that she does not know who dressed Willow. "To be honest I have no idea who 'styled' her or the designer. Wish I did. I don't ask my clients who they used when I'm not available."
One thing is for sure: there are a mother load of angry designers out there!
Source/Republished by Blackcelebkids.com