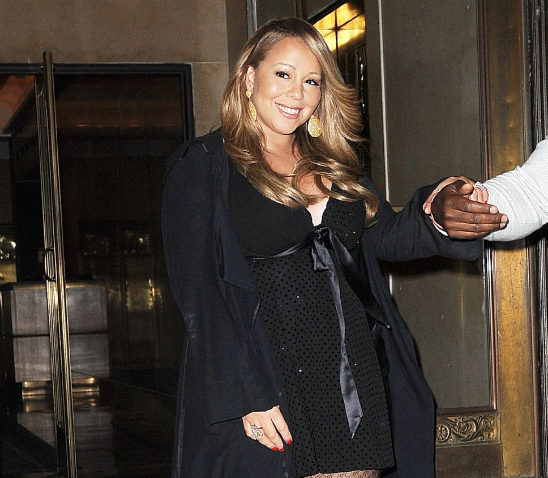 With a new arrival on the way, a new Christmas album that has debuted on the top of the charts, and a loving husband by her side, Mariah Carey couldn't be happier.  Speaking to Hello Magazine, Mariah shares her baby joys-and woes- and why she is so superstitious about her pregnancy:
On where she was when she  discovered she was pregnant:
"I was at home, I took a test by myself, and then another one, and another one, and when Nick got home I showed him the first, second and third tests, and then we did another one together."
On being superstitious about this pregnancy:
"It's always difficult when you are in love with the man who is your soul mate for life and you are both really happy and excited about a prospective child being born. So many women experience the tragedy of miscarriage and I knew that my faith and God would get us all through, and that if it was meant to be, one day it would be.
"I became extra superstitious and overly cautious because of what we had gone through a year and a half ago, so didn't want to talk about it publicly for a long time during the first trimester. Unfortunately, with my life and the world all having their own thoughts and opinions about it, it became very difficult. The pressure is enormous. Unless I went into hibernation, I had to address it at some point."
On enduring endless speculation about whether she has been pregnant or not over the past two years:
"It's hard to explain. I am always grateful and know that I have been blessed with my life and experiences. But it gets to the point where you become scared to leave the house publicly in case photos suggest you're pregnant when you're not. The pressure that puts on you as a woman, the questions from your families and friends, it's quite overwhelming. It becomes worrying to even go online to read the news or check emails in case you read some mean untruths about yourself. It's a lot of pressure but I know with my faith, my true friends and fans, my team and obviously my husband, I can handle whatever life throws at me."
On looking forward to Christmas:
"Christmas is a very special time of the year for us all because of the message of Christ and the real meaning of the holiday. It's also the one time of year that I can look forward to seeing my close friends and family and get hopefully at least a couple of days off work. But clearly I foiled that plan this year by making another Christmas album!"
Click here to read the full article at Mariah Daily.com
Mariah's Christmas album, Merry Christmas II You , is available in stores now.