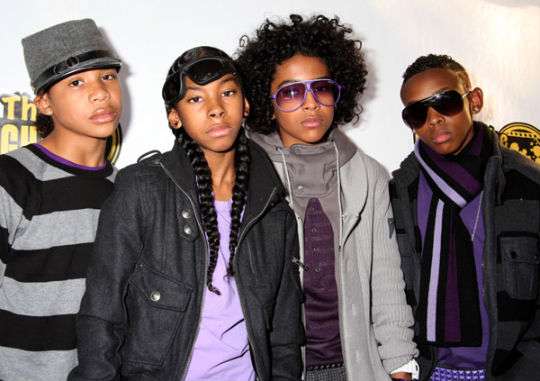 "Mindless Behavior is a new, effortless way of thinking that promotes individuality. "If you're confident and not afraid to stand out, you're mindless. If you get good grades in school, you're mindless. If you express yourself, you're mindless." ~Mindless Behavior
A group of four teenage boys – (L-R) Roc Royal, Ray Ray, Princeton and Prodigy– are the voices behind a new teen quartet called Mindless Behavior:
Comprised of four spirited 13 year old boys – Prodigy, Roc Royal, Ray Ray and Princeton – Mindless Behavior employs an insane sleek and futuristic fashion style, epic dance moves, and global-ready pop songs. Their sound resonates with lush harmonies and messages that speak to listeners of all ages.

Prodigy was named after his ability to quickly master all new things related to dancing and playing music. Ray Ray came up under the ranks of famed Los Angeles battle dancer Tommy The Clown. Roc Royal, who began rapping at eight years old, also honed his skills in dance crews. And Princeton got his start at the age of four, appearing in television commercials for Skechers, McDonalds and Nike, as well as music videos.
Click here to check out their new song "My Girl".