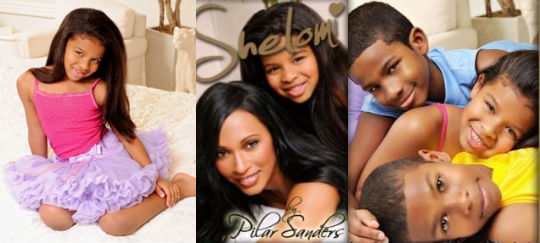 Football Wives star Pilar Sanders has captured the essence of her six-year-old daughter in a bottle with a perfume named Shelomi.
"The fragrances I wear are a little too mature for her, and I couldn't find anything on the market that would fit her," Sanders says  of her daughter Shelomi . "She's just a ball of joy. She's sweet and uplifting."
So what does fragrance Shelomi smell like?
"It's light enough and sweet enough so a lot of the younger girls will really enjoy it, but women will love it, too, because it has a sensuality as well," Pilar says. "The audience that I have [ranges] from a very young generation of girls to a very mature, seasoned generation."
"It's not just her that's involved, it's her brothers as well," Sanders adds. "It's funny and kind of amazing because they're like, 'Well, where's mine at?' I'm like, 'Ok, you're next.'"
Website: MyShelomi.com