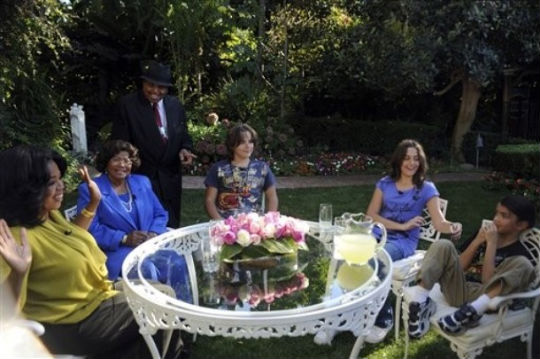 The late Michael Jackson's kids Prince Michael, 13, Paris, 12 and Blanket, 8, are set to appear on the Oprah Winfrey show on Monday(November 8th).  The children, who have never been interviewed before, will appear on the show with their grandparents Katherine and Joe Jackson.
Katherine ,who is the legal guardian of the three children, happily spoke to Oprah about her son's legacy, his children, his childhood, and much more.  The show was filmed in the family's Encino home.
"I found out Oprah was at our family home, my stomach ached and it still hasn't gone away,"  Michael Jackson's brother Randy Jackson recently wrote on his Twitter page.
He continued, "I had no prior knowledge this was going to happen. It was deliberately kept from me because they knew i would have tried to stop it. I know how Oprah feels about my brother and family. I also know that he would not have wanted this in fact, she is the last person on earth he would want around his children. I can never forget when she had the show on pedophilia during the jury deliberation process in my brother's Santa Maria case. That was no coincidence."
Source:DigitalJournal.com