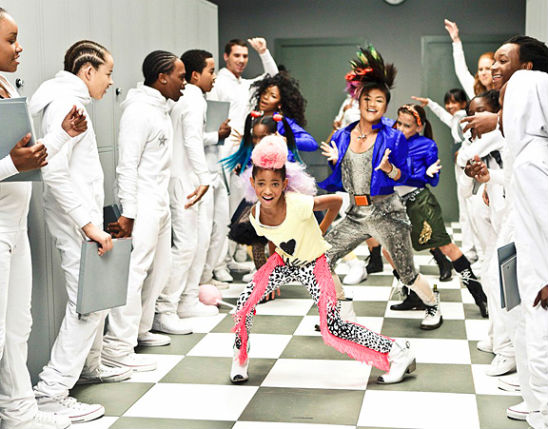 She describes her style as "schoolgirl-meets-punk rock".  Her favorite artists are "Lady Gaga, Billy Idol, , Jay Z…..and my mom and dad!"
In a recent sit-down with MTV News, tween sensation Willow Smith opens up about her style, her new music, and much more!
On signing with Roc Nation, Jay-Z's label:
"It felt like all the hard work paid off, mostly that," Willow said. "Like all the hard work that I've done, like recording 'Whip My Hair' — it's paid off." She recalls meeting Jay-Z: "We went to this building, I don't remember what it was, but we had a meeting and I got to hang out with him and meet him, and it was fun."
On filming her latest video "Whip My Hair":
"It was a long day. … It was hard sometimes, but, like, if you have a commitment to that, you have to stick with it," Willow said.
She adds, "And it's not because I have to, it's because I want it," she said of her percolating music career. "Most people, if they don't want it, they'll just be like, 'Oh well, I can do that tomorrow' — is that what's called procrastinating?"
On the best part of filming:
"Having my Warriorettes there, my best friends caring — Jade, Angel Punky, they're just all my best friends — and my family there just made it even better," Willow told MTV News about the shoot when she stopped by Tuesday (October 19).
On what "Whip My Hair Means":
"'Whip My Hair' means don't be afraid to be yourself," Smith explained, "and don't let anybody tell you that that's wrong. Because the best thing is you."
Click here if you can't see the video.
Website: WillowSmith.com
Photos:Roc Nation