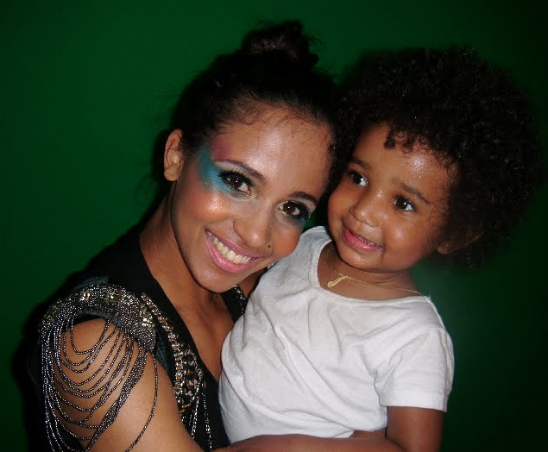 *Updated: Jahna confirms that Swizz Beatz is the father. Click here to watch her interview.
Original Post:
For single mom Jahna Sebastian, even motherhood has its thorns and roses. The singer says that although she enjoys being a mother to her daughter Nicole,2,(dad is producer Swizz Beatz), being a mom does have its challenges.
She writes on her website, "There is nothing better than being able to work on my music 24/7 and spending time with my daughter, who I can't imagine my life without. That is the roses, but the thorns are everyday routine that I have to do like millions of women/mothers out there: the cycle of cleaning/washing/cooking/sorting out the mess around the house the children make and trying to make it, jobs we take on just because "it pays" instead of solidifying a career, and trying to stay positive because children want to see us smile and happy all the time, we can't afford to show them tears even when it's hard to hide. If I don't do the everyday routine – nobody's gonna do it. It probably makes a difference if you have a few family members to help you, but what if you don't? Even though it has never been easy, in the first year of the baby's life it is vital that the mother stays at home and puts career and everything else away."
Jahna admits that for the first year of her daughter's life, she was a stay-at-home mom. Though her career was put on the back burner, Jahna says the personal sacrifice was worth it.
She says of her sacrifice, "It is the essence of unconditional love, because you do this without wanting something back, you just do it because you love your child. I know my mother did the same for me, now I have to look after her the same way. Then everything and your career spins around your child and the focus and the main goal is to achieve things in life for your child. May be if I had everything at my feet, nice and easy from the beginning I wouldn't appreciate simple things in life as much as I do now and won't be able to understand what millions of women are going through every day. So there is a reason for everything, and every Cinderella dreams about this cycle being broken and only roses being left and that life would change one day, that all our efforts will bring fruits, and we can do what we love most, roses with no thorns – spending time with our children and doing work that we love 24/7."
Read More now!
{Thanks to reader Anita for the Update!}