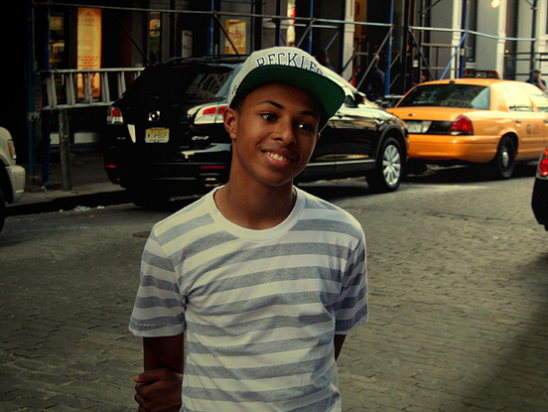 Child star Willow Smith isn't going anywhere soon. Neither is her brother Jaden Smith nor teen pop sensation Justin Bieber. In fact, one would say that the youth movement is more prominent than ever in 2010. According to AllHipHop.com, teen star Diggy Simmons,15, is the "General of The Youth Movement".
"While ladies of all ages are "whipping their hair back and forth" to Willow Smith's debut single, they've realized that she's only 9 and it doesn't matter. Why? Because subconsciously, Diggy laid the groundwork over the past year and a half that no matter the age, good music is good music," writes the website.
The following interview was conducted by AllHipHop:
Diggy on what he thinks about the youth movement:
I am happy to be a part of this. I think that this is the most beautiful thing. Justin Beiber being my homey for a year and a half now. To watch him blow up and his progression is great. I've just met Jaden Smith a few weeks ago. He is a real cool kid, very talented. And Willow, you might see something from us coming out. It's great man. My homey Lil' Twist is doing his thing. There are some young artists on the come up at DEF JAM doing their thing. And it's not like we're all good enough for our age. I feel that all of us that are making a name for ourselves are as good as anybody; we can hold our own.
On what drives him:
The drive comes from me expressing myself and wanting to put out great music, the best music I can. With putting out these mixtapes, I don't hold back. I give myself each time. The response is great and more people are tagging along. My support is growing and my supporters are inspiring me to do more.
On being born a Simmons and people having negative perceptions about him:
Diggy Simmons: Well I already knew, even being young, that people would have their preconceived notions of me. I saw the comments on the blogs. Of course people are going to take shots. As for my dad and I doing a track together; absolutely, it can happen. Real soon? No. I am still breaking out as my own person; as an artist; as Diggy. So soon? No. But can it happen? Most definitely…
On the differences and similarities between his two mixtapes, Airborne and First Flight:
Diggy Simmons: The biggest difference between the two is the progression. Everything from production to the formula in the way I made the music. People can hear the progression and I could see it. The biggest similarity, well I wouldn't say it's the same sound at a higher scale. It's just far more elaborate. Being signed to Atlantic Records now, the mixtape was a completely independent thing. But they were so excited and wanted to listen to it beforehand. They heard the songs and asked me if I wanted to save them for the album and I said, "Heck nah." I want to represent myself each time, in the best way, so people WILL want to buy my records. It doesn't make sense to save songs to me. Because when it's time for me to work on my album, I am going to be that much better.
On how much time he puts into writing:
I put a whole lot of time into writing. I put a lot of time into each verse. I write all my songs on my Macbook in Text edit. I write whenever I'm inspired by a beat or concept. Sometimes, I'll write in the studio, sometimes I'll write at home. I spend a lot of time on my writing. I believe in quality over quantity. I'm a perfectionist and not ashamed of it.
Click here to read the entire interview now!
Photo: Picture shows Diggy in NYC(shot by Angelo Logan)