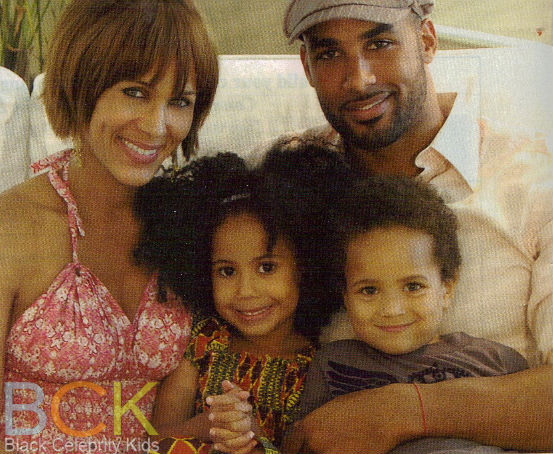 In his latest television role, actor Boris Kodjoe plays a spy on NBC's new night series "Undercovers".  Though his exciting new role has kept him busy, the working dad manages to find time to spend with his children Sophie, 5, and Nicolas, 4, and his wife, actress Nicole Ari Parker.
In a new interview with ParentDish, the actor dishes on his new show, fatherhood and much more.
PD: Do your children understand that Mommy and Daddy are both actors and what the job entails?
BK: It is funny you asked that because we recently sat down and talked to them about that. They think we are on the computer for a living because my wife and I pull up a lot of pictures of them on our laptops, as well as pictures of us. They really don't understand about what TV and movies really mean because we limit their exposure to TV.
PD: What do you and your wife do with the kids when you're not working?
BK: We read books most of the time. My kids are into both American and German books. I actually speak German to them all day long. When I read things like, "The Very Hungry Caterpillar," "The Cow That Jumped Over The Moon" or "The Little Prince," we read in both languages.
PD: So your kids are bilingual?
BK: No, actually they speak Spanish, too. I grew up in Europe and I was exposed to so many different types of cultures. That is one thing I feel we are missing here, so I try to bring that into my household.
PD: When you're preparing for a role, do you let your kids help you learn lines or act out a scene with you?
BK: No. I am trying to keep them as innocent as I can. But there are certain incidences where I'll practice my lines in the bathroom and Sophie will knock on the door and say, "Daddy are you talking to yourself again?" But, overall, they don't have a real idea of what we are doing yet.
PD: Have you ever taken them on a TV or movie set?
BK: Yes. They think there are a lot of people working with Mommy and Daddy and there are lots of cameras.
PD: So, what do you do together as a family during your down time?
BK: We live by the beach so we go into the water a lot. We do fun stuff together. We go to water parks, check out museums, go horseback riding and go to the zoo.
PD: So, while you are on set, what are your children up to?
BK: My kids are busier than me. I need to make an appointment to see them. Nicholas is in basketball, soccer, tennis and piano. They both do karate. As for Sophie, she does jazz dance, hip hop dance, ballet and gymnastics.
Click here to read the entire interview.