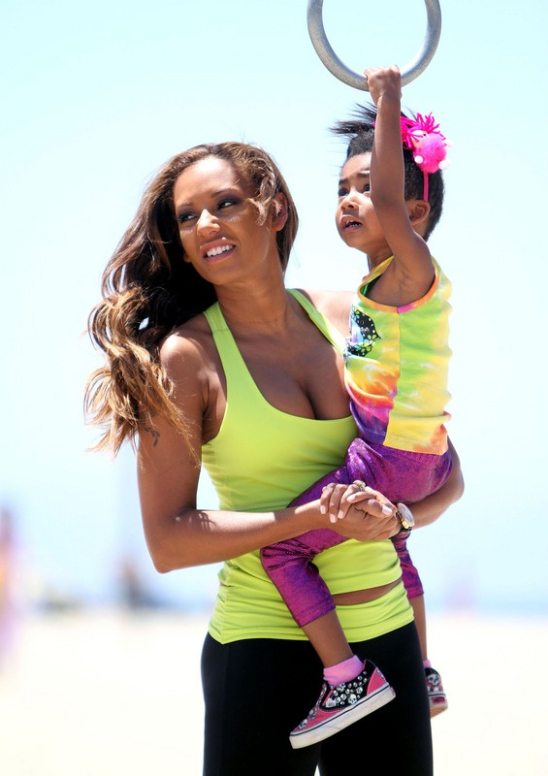 Melanie Brown and her daughter Angel Iris Murphy-Brown are pictured on a beach in Malibu late last month.
Meanwhile, the former Spice Girl has opened up about the pain she has felt at the hands of Angel's biological father Eddie Murphy. On an episode of her new family reality show, It's A Scary World, Melanie talks about reuniting with her ex Eddie Murphy at the Shrek Forever After premiere earlier this year.
She says, "We got asked to go to the Shrek premiere. Angel is three-and-a-half and I didn't expect her real biological father to all of a sudden pop back in our lives. I think because in my mind I fought so hard for justice at the very beginning of my pregnancy. I was, like, hanging my head in shame because people where like, "Oh, is that the father, or isn't it?" I knew what I knew. Do I really want to be on a red carpet yet again, entertaining everybody else's world, like, 'Ooh, we're a happy family' and 'Ooh, Eddie's back in our life?' "
Melanie says that her encounter with Eddie brought up past hurt.
"It brings up all that pain and all that hurt that I went through by myself, pregnant. I had to move to the beach, I had paparazzi following me everywhere. I had people calling me a gold digger, saying that I got pregnant on purpose. It was a horrible time."
Melanie is in a happier place now that she is married to her movie producer and her business manager, Stephen Belafonte. "Stephen is the stepfather to both of my daughters," Melanie reveals.
Click here to watch the video of Melanie talking about being invited to the Shrek Premiere

Photos:DonChavez