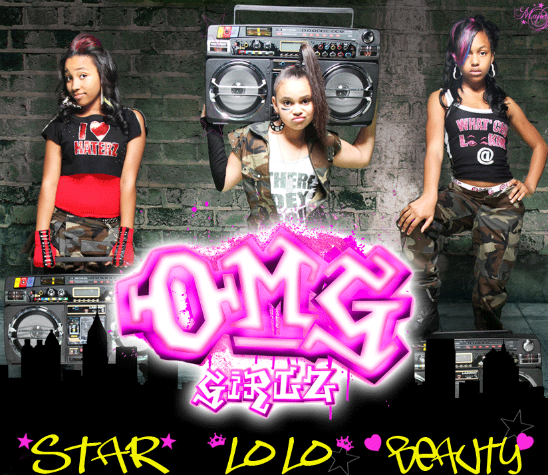 The OMG Girlz, once a four member girl group, now has members Bahja(Beauty),14, Zonnique(Star),14, and Lourdes(Lolo),11. Missing from the group is former OMG girl Reginae Carter, daughter of famed rapper Lil Wayne. When asked why Reginae left the group, the girls are quick to tell Blackcelebkids.com that Reginae "wasn't taken out of the group. Her parents took her out, but we're not sure of the reasons."

Crazy.Silly. Cool
They have been crowned the new age TLC and though they draw a lot of inspiration from the pioneering female group, the OMG Girlz want to make a name for themselves.  Rapper Lolo, who will no doubt remind many of Lisa "Left Eye" Lopes of  TLC, describes herself as the "silly" one of the group.  Zonnique, daughter of singer Tameka Tiny Cottle, is the "quiet" and sometimes "a little crazy when she is around her friends"; and Beauty is the cool, "talkative" member. Different personalities aside, these young girls have managed to form a close bond with one another.
Haterz
"My momma told me dat da fame would bring out all da haterz. I'm busy gettin money so i'll take care of dhem later."~Lyrics from song Haterz.
So far this year, the trio have released two new songs: "Haterz" and "Pretty Girl  Bag", both of which have been well received by their fans.
Haterz is a song that the girls can identify with now that they are in the limelight. One has to wonder, how do these young, impressionable ladies deal with the backlash that ultimately comes with being in the spotlight?
"Haters are going to hate," Lolo says emphatically.
"If no one is hating on you, then you are not doing something right," adds Beauty.
5 Things to Know about the OMG Girlz:
1. SIBLINGS AND COUSINS:
Lolo and Beauty are sisters and Zonnique is their cousin.
2. NICKNAMES
– "My mom has always called me Star since i was little."
– "My grandma calls me beautiful doll and Aunt Tameka shortened it to Beauty."
– "Lolo is short for Lourdes."
3. HOMESCHOOLED
The girls are currently being home schooled and are straight A students thanks to their hands-on-parents. With homeschooling, the girls are able to allot time for their studies as well as their music.
4. OTHER THAN BEING IN A GIRL GROUP
Star would like to be an actress; Beauty, a forensic scientist; and Lolo, a lawyer or a teacher.
5. GIRL GROUP
Zonnique a.k.a Star was once part of a girl group with child star QT Jazz, but the two have gone their separate ways to pursue their individual dreams. And yes, Zonnique enjoys working with her mom, but they do have some mother-daughter moments.
Check Out:
OMG's MYSPACE
TWITTER/@THEREALOMGGIRLZ
Look Out For: In a few weeks, the girls will release a new song called "So Official". Their debut album is tentatively due out at the end of the year.