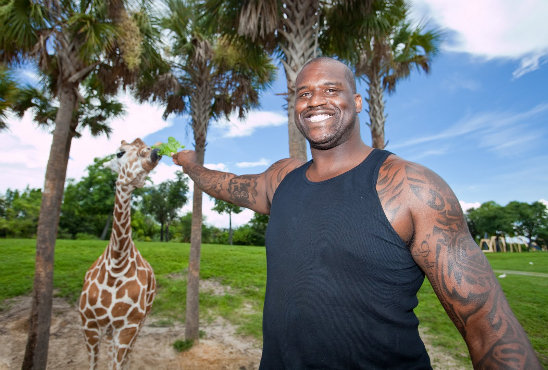 NBA player Shaquille O'neal met his match at Busch Gardens last week-a giraffe! The 7 ft.1 in. star and his kids enjoyed a fun filled day at the theme park on August 6th.
After their encounters with several exotic animals, Shaq and his kids rode SheiKra, a floorless roller coaster and several other thrill rides.
Busch Gardens has become somewhat of a tradition for the O'neal family. In 2008, the basketball star and his family, including Shaq's now ex-wife Shaunie and children Myles, Shareef, Amirah, Shaquir, and Me'Arah, spent the day feeding the giraffes and elephants and riding roller coasters.