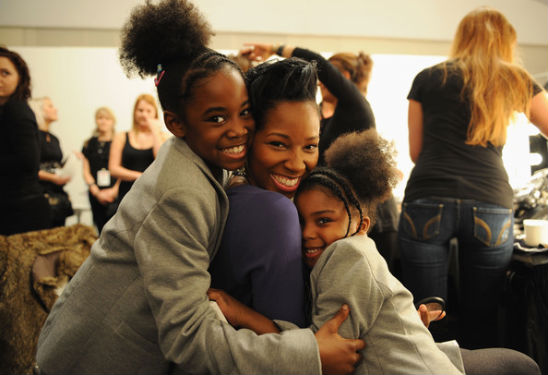 British singer/model Jamelia, mother to Tiani, 9, and Teja, 4, opens up about motherhood and raising eco-friendly kids in a new interview with MadeForMums.com:
On teaching her kids to be eco-aware:
It's important to make it fun for your children. Recycling is a great opportunity for learning. Cycling is also great fun and a perfect family activity. I think with the age that my children are, it's a really good time to give them this information. I've also been teaching the girls how it will affect them if they're not eco-aware.
On juggling her career with motherhood:
I don't find it difficult. I was a young mum and I had my first daughter when I was 20, so it's been something that has just been a part of my adult life. But I was never a party girl beforehand, so I didn't have to make many changes. Motherhood gave me a reason to knuckle down, and my kids are a fantastic addition to my life.
On how motherhood has changed her:
It's definitely made me more responsible and slightly more organized! I think about my future and the impact of my actions on my daughters. It also makes me more aware of the impact I have on other people's children as a role model. Every change that's occurred has been for the better.
On homeschooling her daughters:
I have nothing against schools, I think they're fantastic, but it just didn't work for our family. My girls weren't happy and as a parent you have to be confident to make the right decision for your family. I now have happier and more confident children and academically it's much better for them. It's done them the world of good.