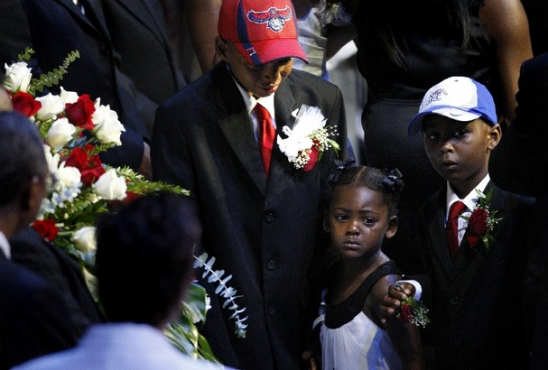 L to R: Lamar Wright, Sofia Wright, and Lawson Wright, the children of slain NBA player Lorenzen Wright, mourned  the death of their father at a public memorial held today (August 4th).
Lorenzen was found dead on Wednesday, July 28, 2010 in a wooded area in southeast Memphis after he had been missing for 10 days. Police are calling his death a homicide.
There have been rumors that Lorenzen's ex-wife Sherra is a suspect in the murder, but her lawyer says that those rumors are false.  Attorney Gail Mathes says, "There is a rumor out there that she was involved in the killing of Mr. Wright, which is absolutely false." "[Sherra] wanted the children to be involved with their father and she needs or needed his financial help."
No arrests have been made. Lorenzen leaves behind six children.
Click here for tons of pictures of Lorenzen Wright through the years.
Photos: Ap/ Commercial Appeal