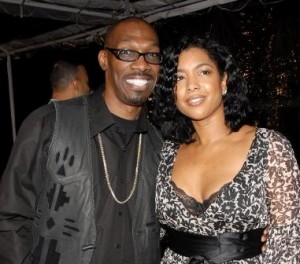 Losing a spouse is painful for anyone, and especially so when there are kids involved. Since losing his wife of  12 years, Tisha Taylor, to cancer in 2009,  comedian and actor Charlie Murphy has never been the same.
"I'm not okay; you're never really okay you just learn to live with it. That's something monumental, losing somebody that close in your life. It happened to my children, and me you don't get used to[it] and you don't get over it," the comedian tells Vibe in an interview.
Though he is clearly still grieving, Charlie says he has had to cope for his kids' sake.
"I have responsibilities as a man to other people—I have children. Okay, you can be hurt but you've still have to do what you've got to do and take care of your responsibilities. I didn't have a luxury of taking a year off. I've been baking this [career] cake for a minute and taking a year off will really cool it off a lot. So I couldn't do that, I had to follow thru with what I'm doing [my work.] And now I've been blessed with the ability to do it and God has been working with me and family. Has it been a baby's ride? No, but we're okay. As a man, if you lose your wife it's a horrible experience especially with kids. But when one person passes away and you're still alive, people still depend on you—that's what you have to lean on."
The funnyman  has a new summer movie, Lottery Ticket, starring Bow Wow, Naturi Naughton and Ice Cube, which hits theaters this August 20th.