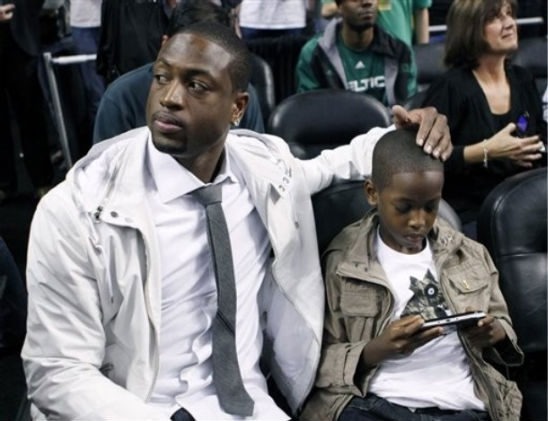 Basketball player Dwyane Wade says he loves being a dad. In a blog written on the Huffington Post, the star writes about being a dad to his sons Zaire,8, and Zion,3:
"Throughout my life, I've never been at a loss for nicknames. There's D-Wade and Flash. I love them both, but to be honest, no label sounds as good to me as Daddy.
Fatherhood has been a life-changing experience for me. While no one is perfect, I think we all have an idea of what the perfect father would look like. I strive to be a better father every day. I want to foster a friendship with my sons and have them grow up feeling close enough to me to talk to me about anything.
It's probably no surprise that one of the main ways I connect with my sons is through sports. However, because of what I do and how competitive I am, I make a point to never get too hard on my sons about sports. Instead, I try to have fun with them. Basketball is an obvious favorite.
…Parenting can be challenging at times, and unlike the game of basketball, there aren't any playbooks or scouting reports for quick reference. All I can do is be the best parent and person that I can, and hope that the old sport saying proves true, and that practice really does make perfect (Read More."