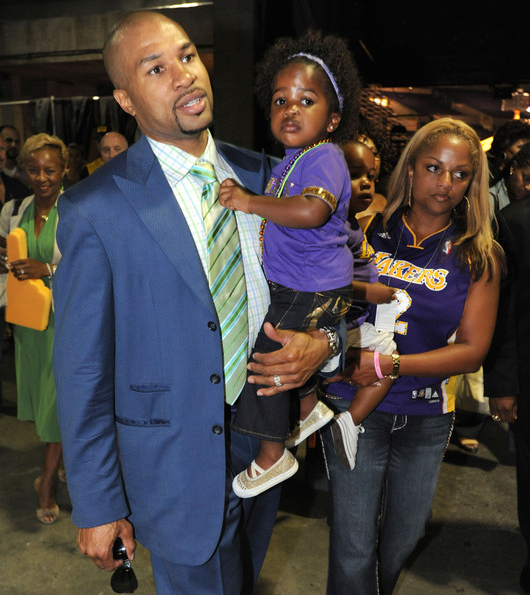 Lakers player Derek Fisher, who earned his fifth championship ring yesterday(June 17th, 2010), says that he has his daughter Tatum,3, to thank for his win.
"She's not aware of the magnitude of what all this means, but she knows what daddy is up to. You know, she's really the reason why I'm sitting here, and I owe her a lot. She's going to definitely get some cake and cookies this weekend for sure," Derek said in an interview yesterday.
VIDEO:Derek and his wife talk about their daughter's life-changing diagnosis.
In 2007, Tatum was diagnosed with a rare form of eye cancer and forever changed Derek's outlook on life.
"Basketball used to be my top priority. I played in college before being drafted as a point guard by the Los Angeles Lakers in 1996. But after eight years in the NBA, I married Candace and everything changed. No sooner had we blended our families–her son, Marshall, and my daughter, Chloe–than we discovered we were expecting twins.
"Nothing prepares a family for having multiple children at once. When Tatum and Drew arrived in June 2006, I had just signed a contract with the Utah Jazz. Caring for them required so much energy, effort and time. But the true test of our family's bond came the following April( Read More about Derek's story)."