You voted! Your favorite mom and kids team is…..
Take a look above at the featured banner.
Singer Monica Arnold and sons Romelo,2, and Rodney "Lil Rocko" , who will turn five this month!
Recently, Monica spoke about how she balances motherhood with her career:
"The balance is this… my children come first, if something happens with them, all bets are off. I have lots of years of me just working diligently, and pursuing my music career, so I was ready to be a mother, I've been fortunate to have great family with me in Atlanta, with whom my kids can stay with anytime. This was all meant to be, music and family, so I'm just happy that I can do both at the same time."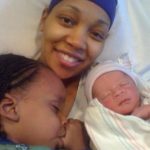 Click here for tons more pictures!
Click here for videos of the family
BCK Says: Happy Mother's day to all the wonderful moms and moms to be!