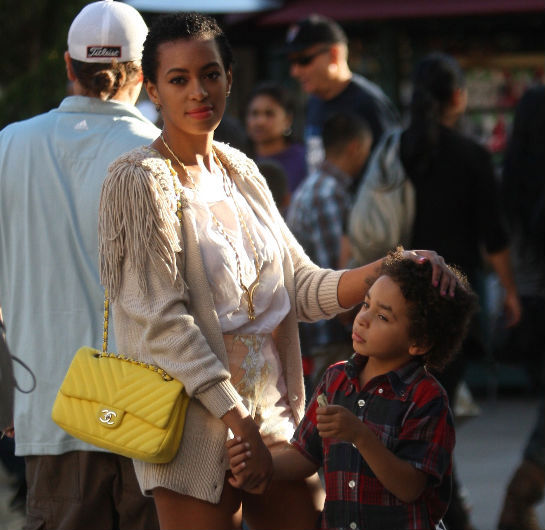 Solange, who says that she "would absolutely" consider adopting one day, thinks "it's phenomenal" that actress Sandra Bullock has adopted.
"I think it's a phenomenal, beautiful thing.[Singer] Kelly Rowland actually grew up with us. She moved in when she was 5 and so we have sort of a blended family. I've only ever looked at her as a sister. I think adoption is a beautiful thing."
Read more about Sandra's adoption story.
Solange talks about her son Julez,5, and her sister Beyonce Knowles. More Interview below…..
On Julez' latest milestone: "The newest milestone is being able to exhale because we just chose a kindergarten which in New York, I'm sure you hear the stories. We just moved to LA from Houston and the interviewing process of me and him was very strenuous and a little insane. So we just got our acceptance letters and I feel extremely proud."
On whether or not Julez was stressed out during the school interviewing process: "He wasn't because luckily the schools that we applied to didn't do interviews as much as they did a half day of school visit so he just thought he was playing with new kids every day. Me, on the other hand, was a little pressured. I'm like Ok, you're asked me a lot of questions. What does this have to do with?"
On why she thinks Beyonce would make a great mom: "I think she just has one of the most beautiful hearts that I've ever experience in life. She's just a very kind hearted and patient person."