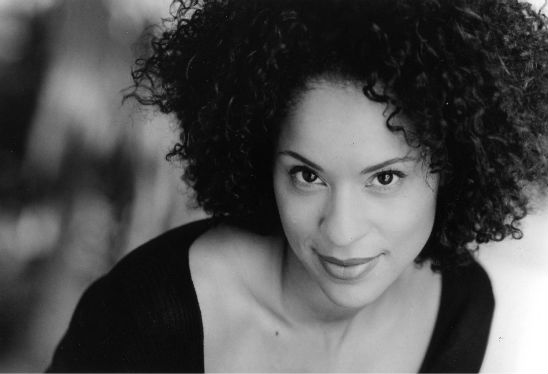 You may all remember her for her role as the self-centered and dimwitted Hillary Banks on the hit series the Fresh Prince of Bel-Air, but these days, actress Karyn Parson's role is that of a career mom.
On how her career shifted after kids Lana,6, and Nico,3:

After I had my daughter, I allowed myself some time to really think about whether I was doing what I wanted to do or not. It's important for all of us to be true, but I think with kids it's even more important because THEY ARE WATCHING. They are soaking up every little bit of what you do and who you are and it's going into their little computer. And they will do what you DO, not what you say. So, if we want them to be true to themselves, we have to start with doing it ourselves.
On whether or not she believes mothers can have it all:
Absolutely. I do think, though, that once we become mothers, we need to re-evaluate what that means to us.
On her idea of a perfect day:
A day spent on the beach with my husband and kids, not a care in the world, lots of laughing, and we don't go home till we've watched the sun set.
On whether or not her daughter would like to follow in her footsteps:

She's six. I was certain I wanted to act at 6. Crazy, but true.
She has expressed an interest in acting, but, right now, we're not going to steer her in that direction. Not shoot it down, just not encourage it so much. We'd rather support her and continue to show her all of the options out there…. And secretly pray that she changes her mind and wants to become an architect or something.
It's such a crazy and fickle business. When you put yourself out there for the public to scrutinize, it can really mess with your head and disturb your confidence in yourself. It doesn't for everyone, but it does for so many. I certainly don't want that for her. And I don't EVER want her to measure her value by other people's standards.
On her project Sweet Blackberry:

By teaching kids about the contributions of African Americans in this country, and its culture, we show them their value in the community and that of their neighbor's. At Sweet Blackberry, we're committed to reaching beyond the handful of stories we are frequently taught and bringing to light little-known, incredible stories of African American achievement that risk being lost forever. And in these stories, there are great lessons about working together, understanding one another and overcoming tremendous obstacles.
Click here for pictures of Karyn and her family
Interview Source:MyWorkButterfy