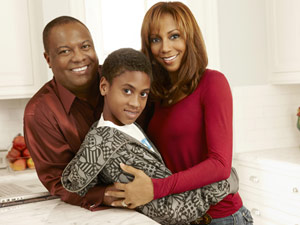 In a new interview with Redbook magazine, actress Holly Robinson Peete and former NFL player Rodney Peete talk about their struggles with autism and how it affected their marriage:
On their son's R.J's diagnosis:
HOLLY: We went through this emotional connection, and we just cried in each other's arms. We didn't know what the hell this autism thing was. We were both in denial for a few weeks.
RODNEY: I stayed angry and blamed the doctor and was still in denial — while Holly basically rolled up her sleeves and did what needed to be done.
On how they both reacted to R.J's diagnosis:
HOLLY: We did have conversations, but Rodney shut down. Part of being in denial is that you don't talk about your feelings. I would do these all-nighters with him, and the poor guy would just lie there in bed curled up. I'd say, "Are you listening to me?!" until 3, 4 in the morning. Remember that?
RODNEY: I do.
HOLLY: He wouldn't respond, so I felt disconnected from him. He didn't understand what I was going through, or what his son was going through — or he wasn't trying to. I don't think we had any conversations that could get us anywhere because he hadn't come to terms with his feelings.
RODNEY: The situation consumed us; all other conversations didn't matter. Everything led back to, "What are we doing about R.J.?" And Holly telling me what the reality is and what I should be doing — and me not wanting to believe it. It started driving a wedge in the marriage.
HOLLY: I would send him books upon books so he could read about what's going on in this kid's head. There were no dad books like the book Rodney has written; I looked all over. I would say, "Please, can you just start trying to understand?" And I would stand there with my arms crossed and say to him things like, "Do you even know what autism is? Could you explain it to somebody?" I mean, I always challenge Rodney, but later when I read his book, I thought, Oh, my God, I so went out of my way to emasculate him.
On the lowest point in their marriage:
RODNEY: It was a sort of meeting of the minds about R.J., and the therapists asked me to get down on the floor and try to interact with him, and he wasn't responding to me; that was rough. Then to see him respond to someone else — instead of immediately going, "Okay, I get it," I took it as, I got set up. She's making me look bad. I'm off!
HOLLY: I think that was the lowest point, marriage-wise. I knew I had to give Rodney an ultimatum. There was part of me that couldn't believe I was saying it, and another part of me that was like, This is what has to be said: "We're going to have to figure this out because this ain't working, and I'm going to have to leave you for R.J." We didn't use the D word too often, and that word was used more than once in that conversation.
On what saved their marriage:
RODNEY: Therapy saved us. We went to counseling before we got married and laid some ground rules. That way of talking things out wasn't part of my DNA; that was probably why we ended up getting married, because Holly knew I had the ability to change and do something different.
HOLLY: Rodney's right — those therapy sessions before we got married were when I knew Rodney was the guy for me. I knew enough about marriage to know that with guys, especially the macho football-player types, if they won't sit down and discuss their feelings, you're in trouble 'cause you're going to run into issues. We didn't know our issue was going to be autism, but you're going to run into something. The fact that Rodney was willing, that was humongous. Our therapist, Sharon, was the guest of honor at our wedding.
Click here to read more of the candid interview at Redbook.com