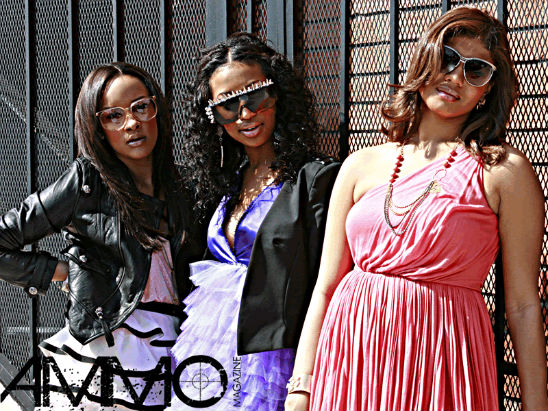 Cover Girls! Celebrity kids Skye Townsend,16, Chani Christie,16, and Genevieve Jackson,20, are featured on the April/May 2010 "Heir to Hollywood" issue of Ammo Magazine. In the issue, which also features celebrity kids Damon Dash jr., Aysia Rowe, and Ryan Elizabeth Peete, the young ladies talk about following in their parents footsteps, their inspirations, and much more!
Chani Christie
On her inspiration:
I actually have three! My grandmother who is such a strong and beautiful role model. She has set such great examples for me. She encourages me to follow what's in my heart, chase after my dreams, and realize that anything is possible. My mother who is not only my best friend she is a great mother and has given and taught me so very much. Her love is my warmth and her advice and wisdom guides me in my life. My mother is not only beautiful, but smart and kind and loves all people and is such an inspiration to so many. And my father, he is the king of our house and he teaches me so much about life and he helps me with my school and by being an awesome male role model and example for me. My father is the best!
On her music:
I've been singing since I was little, but I really began singing professionally two years ago when I realized that I had a strong love for it. I listen to music all the time and I sing constantly. So music has always been a big part of my life.
On what she is doing now:
My new TV shows. I have my own show that I host and executive produce titled THE LOW. It's a TEEN VARIETY TV show for the youth that promises to be awesome! I'm on a new teen reality show called THE REAL TEENS OF HOLLYWOOD as well! I also have my second book coming out late 2010 called: A Girl Has to Look Good' A Beauty, Skin & Lifestyle Guide. As far as music goes, I'll have a single releasing soon as well and a fun mixtape that I'll be doing this summer to inspire and entertain young people to stay in school and listen to their parents. LOL I'm so excited about what the rest 2010 entails.
Skye Townsend
On her inspiration:
I am inspired by the lack of change in this industry. Teens talk so much nonsense about helping girls with confidence and charity but sit on their fame. I cannot wait to be able to speak to so many more people on an honest note through my music. I want to inspire. The more my music gets people through things, the more I am motivated to make more.
On how she balances school and her career:
Oh man. Not only am I in school and balancing a career but in a tough school where all of your classes must be priority. I am in two honors and of course must maintain a fulfilling social life to help take away from stress. There are nights that I have to record until 1-2am then get up and take my sleepy self to school. It's a price you have to pay and my family [especially my mother] values education. She says, "You'll go to school until you're too busy to do so."
On what she is doing now:
I am working on my first album and finally; I'm deciding where I want to call my home in terms of a label. I am working on many projects that I cannot speak much about but am so anxious. Also, I am working on a new little line [online] titled Diamond Bullet with a very close friend of mine. We want to give the people who support my friends and I the opportunity to rock funky dope pieces that they see us wearing in pictures. Nobody likes paying a bunch of money so the prices will also definitely be a great look! Overall, blessings keep flowing and doors continually open!
Genevieve Jackson:
On her inspiration:
My AMMO is my family.
On her musical influences:
My musical influences would have to be all my uncles and my aunts of course. But I also love Prince; he would definitely be in that category as well.
On what she is doing now:
Continue working hard on everything I do with my music and development for my future.
Skye Townsend, Genevieve Jackson, and Chantel Christie, are the daughters of Robert Townsend, great director, actor; Randy Jackson, one of the members of the Jackson 5; and Doug Christie, an NBA legend.
Click here for tons more pictures and interviews
Photos: For use on Blackcelebkids courtesy of AMMO magazine