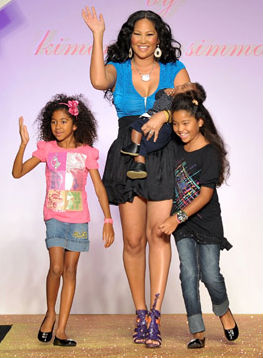 Mogul mom Kimora Lee Simmons kicked off her career at the early age of ten.  So it comes as no surprise that her children Ming,10, Aoki,7, and Kenzo,9 months, are well on their way to becoming mini moguls.
"When it's time to be on camera they know they're on for a small amount of time, and it's for a very specific reason and then it's over. But having said that, my kids kind of love the camera. They're hams, and they like having their little show, and they love going to work—but it's because they see me doing it all the time. So if I'm always working, always on the computer—doing graphics, designing—they want to do the same thing. They really like our life, but we have a very strict household. They have straight As in school. I will send you their transcripts! We wouldn't have it any other way: If you don't have straight As, you're definitely not going to be prancing around on TV. That's just not going to happen."
So do Ming and Aoki really want to follow in their mom's footsteps?
"This life affords them things I hold so dear, like the ability to travel, meet new people and see other cultures. They do love fashion. They've been on the runway with me; they've been on TV with me. Maybe they do want to be models when they grow up, but I doubt it. That's not where they're headed. They're probably mini moguls in training. They're also very much performing- arts children. I mean, their dad is a huge producer and a music guy, and their other dad is a Hollywood guy. It's just in their blood. It's about how we monitor it and guard the children in whatever things they want to do and always make sure it's a safe environment they're playing in. You can't keep it from them, but you can't shove it down their throats and force them into the spotlight either."
As for how she balances her career and motherhood, Kimora says, "I keep it moving! If we have to travel, we pick up and go. I say, "Everybody, let's load up the car and do what we have to do!" On the way to a restaurant for lunch I'm doing a conference call, Djimon is driving, and I manage to juggle and sort of do everything. I don't hit a wall because after being in business for 15 years, I'm a well-oiled machine. I run a fashion empire, and I have kids—I'm a "mogul mom." My children are my first job and my biggest priority and my business comes next. Successful businesspeople are all about multitasking and running their empires as well as running their families. Your family is your biggest empire."