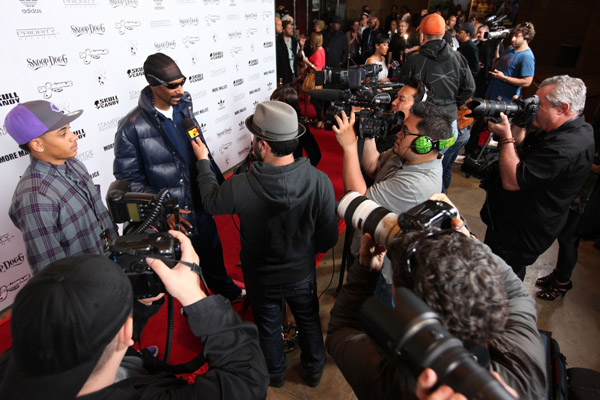 Rapper Snoop Dogg and his son Corde Broadus,15, pose at the Los Angeles premiere of "Malice In Wonderland"  on March 22, 2010 in Hollywood, California.
Malice N Wonderland is the rapper's mini-movie, which he will release with his new album, More Malice.
"I like to be very creative. I like to give people all of Snoop Dogg when I give them an album. I felt like on the [Malice N Wonderland] record, I didn't give all of Snoop Dogg like I really could have. I had to make the record be about 12 songs and conceptually stick to the script as opposed to what I normally do with 20 to 21 songs on the album and overdose people. So what I did [on More Malice] was, I pulled back from the music and put a little more thought in the creative side as far as the visual aspects. Am I gonna just make one video and say, 'This is the single' and hope that people attract to it? Or was I gonna make a mini-movie to make people understand the philosophy behind this Malice N Wonderland project, and that's what I was on (Source) ."
Rapper Snoop Dogg has two other children with his wife Shante: son Cordell Broadus(born 1997) and daughter Cori Broadus(born 2000).