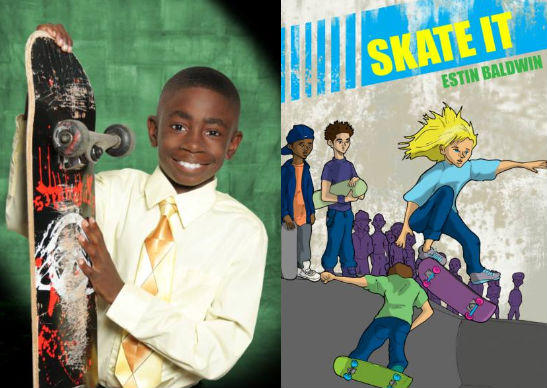 Meet Estin Baldwin.  Estin is a ten-year-old author and entrepreneur. But wait, there's more. Estin wants to be a  movie producer, a pastor, a book writer, and a baseball player when he grows up!
He is the youngest African American published author in America and the only one of any race in his State (Michigan). He enjoys drawing, writing, skateboarding, wrestling, playing baseball and basketball. He has received several trophies over the years for his athletic abilities in baseball. Because of his love for skateboarding, Estin decided to pen a lesson based book about four friends who set out to prove their mettle by competing in a national championship. The story follows the boy's journey to LA and all the bumps they encounter on the way! It teaches that values, perseverance, and setting goals pay off.

[Estin's] goal through this book is to inspire, promote, motivate, and encourage literacy among children and teens so they can also become authors of our tomorrow! Estin has just started Estin's Enterprise, LLC. which will design, develop, and distribute products in addition to signature products that will aide in his ability to promote literacy. Read PR dated January 11, 2010. He is also working on starting a foundation that focuses on American Children Authors.(Source).
In a recent interview with Essence magazine, Estin reveals that he wants "to be like Tyler Perry because he is an entrepreneur. I'm looking forward to being my own boss."  Estin also adds, "I love to read. I know that's how I'll make it to college and learn how to do different things."