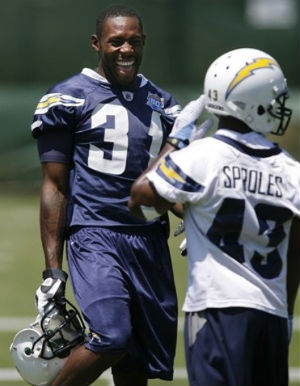 Antonio Cromartie can breathe a little easier now that his new team, The Jets, have fronted him $500,000 of his $1.7 million 2010 salary to help him settle some past due child support payments. According to reports, The Jets helped out the former Chargers player in hopes of giving him a fresh new start.
"He's got some time constraints on payments and [the Jets] did help him out with that. They've certainly helped with everything and that's going to make life easier for him," a source tells the NY post.
Cromartie, who has seven children from six different women in five states, has admitted that he has made some mistakes in the past.
"I made some wrong decisions my first two years in the NFL, and now I have to take that responsibility to be a father. I need to deal with my kids and child-support issues," Cromartie said during a conference call with reporters last week Friday. "Those things are being taken care of. I'm going to be the best father to them that I can."