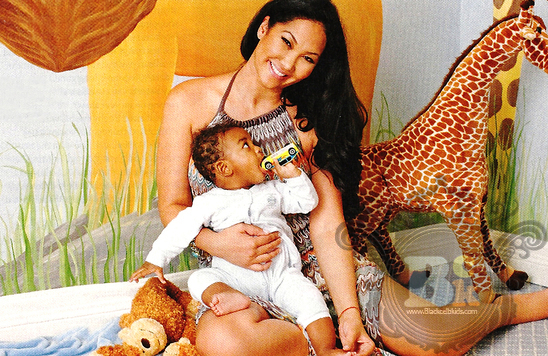 It's been nine months since Kimora Lee Simmons and Djimon Hounsou welcomed their son Kenzo Lee Hounsou, and now the couple are working on having another baby! In a new interview with OK! magazine, the mogul mom talks about motherhood, her post-baby body, and more!
On wanting another baby:
Definitely. We practice all the time, and it's a lot of fun. I definitely can see myself having more. I know Djimon wants more. I would love to have another little boy.
On Djimon as a father:
He's totally amazing. It's really changed his life. Seeing him change a diaper and get up in the middle of the night…he's very nervous.
On how much weight she has lost since having the baby:
About 40 to 50 pounds, but I really go by how things fit. I'm still working on my body. It's a work in progress, but I think it's[not just about weight]. It's about peace of mind, healthiness and happy living.
On how Kenzo is different from the girls:
Two very girly girls. He wants to crash things and bash things. Boys are definitely rougher and more aggressive.
On what's coming up on the new season of Life in the Fab Lane:
We just aired a baby special with little Kenzo. And the regular season stars March 21. Obviously, life with the new baby is totally crazy. My girls[Ming Lee and Aoki Lee] are 10 and 7.. so having a 9-month-old makes it a little different.
Pick up the latest issue of OK! magazine to learn how the model mom lost all the baby weight.