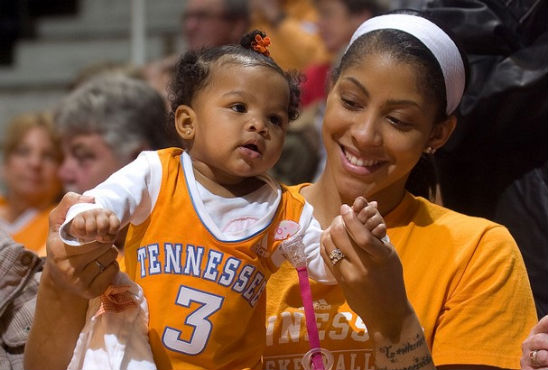 WNBA star Candace Parker is an athlete mom in every sense of the word. The working mom trained before(and during her pregnancy) and after the birth of her daughter Lailaa Nicole Williams.
"I felt really good during my pregnancy. I trained pretty frequently, probably five days a week. I would do elliptical for 20 to 30 minutes, then shoot and stretch. I trained up to three days before I had Lailaa and the only reason for that was because I had her on the weekend and I was taking weekends off. Back on the court, my timing was off from not playing for so long—my reactions, jumping, coordination—it takes a while to get that back, " she tells Vogue magazine.
After Lailaa was born, Candace began working out again.
"I started to work out again two weeks after I had Lailaa, and I played in a game six weeks after I had her. She was an easy pregnancy and she was easy to have, but a challenge with her was nursing. I want to nurse her for a full year [Lailaa is now ten months old], and in the beginning I was getting up every two to three hours during the night. When I went to practice she would either come with me or I would leave every few hours. It's a hassle, but it's worth it."
Somehow Candace finds time to balance it all.
"The toughest thing is balancing everything, getting my rest while taking care of her, and finding time for myself. I don't want to miss anything my daughter does."
"I always wanted to be a young mom. It's such a rewarding job seeing my daughter grow up. It really is the best thing that could ever have happened. I love being a mom"
Photo by Saul Young