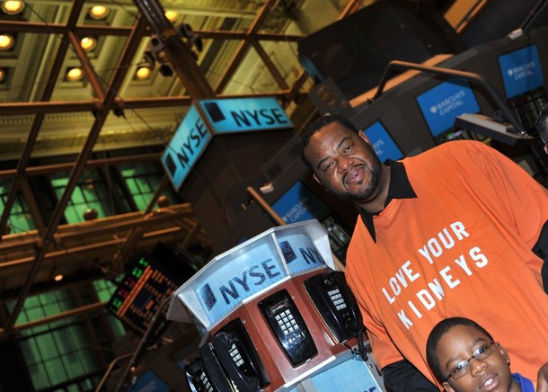 Actor Grizz Chapman from show '30 Rock' and son Christian rang the New York Stock Exchange opening bell yesterday along with members of the National Kidney Foundation.
Grizz Chapman (who plays Tracy Morgan's sidekick on the comedy series) is currently awaiting a kidney transplant. The actor suffers from severe hypertension and has been undergoing dialysis treatments. Since learning about his condition, Grizz  has been trying to raise awareness about hypertension.
"I want people to go to the doctor. Early detection is the key. I hope many of my friends and the public in general change their habits and take better care of themselves. I do not want what happened to me to happen to anyone else. Dialysis is tough," the actor told Dr. Oz. last fall.
Head to the National Kidney's foundation for more information about how you can avoid kidney failure.