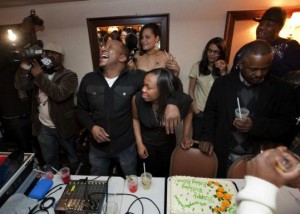 *St. Louis Rams running back  Steven Jackson won't be charged over allegations that he beat his then-nine-months-pregnant girlfriend, a police spokeswoman said Tuesday.(Read More)
*Singer Bobby Brown celebrated his 41st birthday at X&O restaurant in Stoughton, MA last Saturday with his children LaPrincia(pictured) and Landon Brown.
*Robin Thicke and his pregnant wife Paula Patton were spotted at Gelson's Market after doing a bit of grocery shopping on 02-08-2010. Paula is due to give birth in May.
*Former WNBA star Lisa Leslie was on hand Thursday to help a few high school students receive their meningococcal vaccinations as part of WNBA/ NBA Cares All-Star Community Caravan, a series of service events taking place this week. Lisa is pregnant with her second child and is due in May.
*Plaxico Buress has admitted that being in prison has made him a better husband and father. The former NFl player has been in jail since September 2009 and was unable to make it for the birth of his second child in November. Last month, he got to hold his baby  girl for the first time during a supervised visit.  "The first time I got to lay eyes on my daughter and hold her, that was one of those moments that's a once in a lifetime," he said. "[It was] like getting ready to go into the Super Bowl."