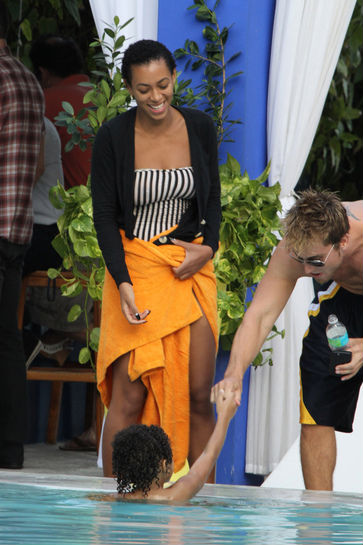 * Singer Solange and her son Julez,5, are in Miami just in time for football! The duo are in town to watch the match between the Indianapolis Colts and the New Orleans Saints. [Go Saints!Go Colts!]
*Singer Jennifer Hudson had her six-month-old baby in tow while at the Grammys last Sunday. "Motherhood is the best thing in the world! He's here, but he's backstage. It's baby David's first Grammys!" the excited mother told ET Online.
*19 year-old Jourdan Dunn is rumored to be back on the runaway just a mere few weeks(Jourdan welcomed her baby boy in December 2009) after the birth of her first child. A career mom indeed!
* Is Mathew Knowles a dad for the third time? According to rumors, Mathew is the proud new father of a baby girl! Mathew, as you all know, is the father of singers Beyonce and Solange Knowles. Late last year, a woman named Alexsandra Wright filed a paternity suit against Mr. Knowles claiming that he fathered her unborn child.  Meanwhile, Mathew's estranged wife Tina Knowles filed for a divorce last November.[Ouch, this is messy situation].
* New mom Ellen Pompeo visited the set of the Ellen Degeneres show this week. While on the show, Ellen of 'Grey's Anatomy' showed a photo of her 4-month-old daughter, Stella Luna.Click here for a peek at Stella